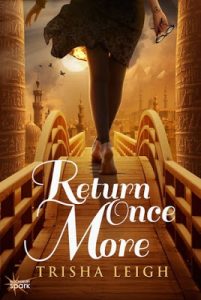 Return Once More
by
Trisha Leigh
The Historians #1Published by
Bloomsbury Spark
on October 20, 2015
Genres:
Young Adult
,
Science Fiction
,
Historical Fiction
Format:
eBook
Source:
Publisher
If you could learn the identity of your one true love—even though you will never meet— would you?

Years have passed since refugees from a ruined earth took to space, eventually settling a new system of planets. Science has not only made the leaps necessary to allow time travel, but the process engineered a strange side effect—predicting your one true love.

If you could save your one true love from an untimely death, would you be able to resist?

Sixteen-year-old Kaia Vespasian is an apprentice to the Historians—a group charged with using time travel to document the triumphs and failures of the past—and she can't resist a peek at her long-dead soul mate in Ancient Egypt. Before she knows it, she's broken every rule in the book, and the consequences of getting caught could destroy more than just her new romance.

Or would you have the strength to watch him die?

But when Kaia notices a fellow classmate snooping around in a time where he doesn't belong, she suspects he has a secret of his own—and the conspiracy she uncovers could threaten the entire universe. If her experience has taught her anything, to changing history means facing the consequences. The Historians trained her to observe and record the past, but Kaia never guessed she might have to protect it— in a race across time to save her only chance at a future.
A copy of the book was provided for review purposes - thank you! Receiving a copy does not guarantee a positive review and therefore does not affect the opinion or content of the review.
I was intrigued from the beginning and the world Trisha Leigh created became very complex as I kept reading. I find it very interesting that Historians is a job where they can time travel into any point in the past and just record the history, making sure they do not mess or change anything. We all know that there is always that one person who will rebel against the rules.
These people don't live on Earth anymore since it's not in very good conditions for people to live there. They live on different planets where they have new rules that they have set up that are better and not repeat any past mistakes in order to not end up as they did back on Earth.
The romance in the book was also very interesting and a quite a big part of the book. When you turn 17, you get the chance to know who your "True" love is, based on the advanced technology that they have. A True pair is very rare in that time because many of the people's Trues are dead or are not born yet which really is fascinating.
Kaia is our main character and finds out her True is already dead and she finds herself breaking rules in order to just see her True and feel his presence. Especially since he is an important person in history. *wink wink* She time travels back in time secretly to a time where she isn't assigned to go. You only get in trouble if you get caught.
I liked the fact that we get some historic insight from the perspective of a 17-year-old and get to see different events right from the beginning. A story about the past and the future, all beautifully mixed into one complex story!
The ending killed me and there were so many twists and turns. I just need the second book already! It was such a good read and I highly recommend you to go add this to your never-ending pile of "To-Read" books!
Lupe is a 23-year-old Mexican-American who enjoys reading and watching movies when she gets the chance to relax. Her all-time favorite series consists of Bloodlines and Vampire Academy (among others), and her favorite author is Richelle Mead.