I never actually thought that I would be writing a review for a mobile game but…
It has indeed been a long while since a gaming related post has occurred (last time it was Mari during the trial run back in August 2016 doing a review over Rocket League).
I'm an avid Harry Potter fan (I did devour the entire series in the span of 3 months as a 6th grader…). I'm a Ravenclaw and Gryffindor – at least, according to Pottermore 1 and 2. I have a Ravenclaw lanyard (which is stretchable and some people do it for fun because they think it's funny, but whoever breaks it will owe me a new Ravenclaw lanyard). I'm on the Quidditch team at my school, to which I'm really just a member and can't do anything because I'm too busy working to actually practice.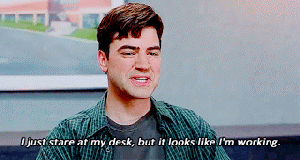 That kind of sums up how I'm feeling.
So of course, when a Harry Potter related game comes out, I'm definitely going to download it and see how it goes.
I think I have a love/hate relationship with mobile games. Or, more accurately, a very short attention span when it comes down to games played on a tablet versus those played on a computer (even those are a toss up). Maybe I just have really low motivation right now, which is a very bad time to have it because I had it last year around the same time, among other shizz, which really did not help. And the kicker this time? There's no guy involved.
Fantastic Beasts is essentially a hidden object game in which you, the player, is part of the Ministry of Magic – in fact, the newest recruit. You go on cases and figure out what magical creature was causing havoc in each case. To find what creature was involved, you find objects as fast as you can in scenes – the faster you are, the points you earn and the earlier you get stars that will help you repair objects, question people, etc. that will ultimately help you find the magical creature involved. And to help aid you, you can brew potions – much like any wizard alumni can from Hogwarts or Illvermorny.
Some Screenshots (All screenshots taken on an iPad Air 2):
I find it extremely interesting to figure out the magical creatures and learning about them – definitely different from other hidden object cases, but that's not surprising since this is based on the movie and the Wizarding World.
But Fantastic Beasts quickly died out with me. I loved going on the cases at first, but over time, it felt repetitive – for each case, I'm going through different scenes, but some of the scenes in the cases are just variations of each other. Plus, the objects are almost always the same with the occasional changeup. There are backward versions, timed versions, find the differences versions – it didn't feel any different than a hidden object game.
I will admit, however, that timed versions are fun to do. But I think I'm going to continue my search for a good mobile game to play when I'm really bored.