Humans are naturally judgmental of others, even if we like to say we're not or we try not to. The first time you meet someone, you take a look at what they look like, what they're wearing, and instantly, your brain sorts them into categories.
The same applies to blogs. We come across hundreds of blogs in and out of our blogging career – some we choose to follow, some we choose not to.
A lot of people will say content matters (and it does!), but the first thing we see when we load up a site is their design, an essential step to keeping your readers just a little longer so they can see your fantastic content.
Let's talk about why people might avoid your blog.
Oh, please. You know you want to know. 😉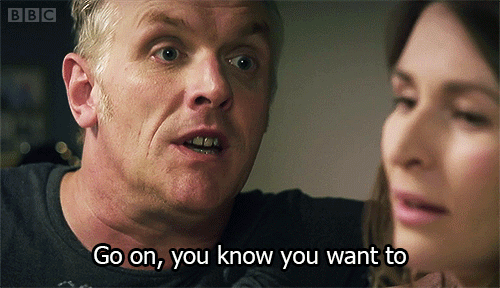 A horrible combination of background color and text color
Confession: when I first started, I was a culprit of this as well (kind of). I had a dark background, but I had a white post background with black text. That's not too bad considering I've seen worse. It was still readable, okay?!
I've seen blogs that have a black background (on the post as well) and bright text. I've also seen blogs that have a white background and bright text (very rare). The point: don't use bright text. It is horrible for the eyes, and I will click out within five seconds.
There's nothing personal against you – I care more about my eyeballs, though. Does this make me sound selfish?
Huge blocks of text with almost no breaks
I once came across a blogger who had great ideas, and I enjoyed reading them, but eventually, their posts became a bit of an issue. Not only did they have a horrible combination of background color and text color, they had huge blocks of texts in their blog posts with virtually no breaks!
The writer in me wanted to take their blog posts and break it up into prettier chunks.
Now imagine this happening in a book… because that has happened, and it was not fun. Bonus: the book was horrible too.
I try to break up my paragraphs as naturally as possible, but also short. WordPress is nicer to me on the phone, so I do a lot of my blog work on my phone rather than my laptop. Phone have smaller screens, so when you have a huge wall of text that takes up two of my phone screens, I'm probably not going to read it.
And well, let me be honest: I skim blog posts sometimes. Hey, hey, take back those tomatoes because you do it too occasionally. Don't you lie.
I'm not saying to be short and choppy – don't do that, I like your words flowing – just keep your audience in mind. With so much technology and everyone being on their phones, it's not wrong to assume most of your audience will be reading from their devices.
The bigger the paragraph, the chunkier it looks, the more daunting it seems. And the smaller the screen, the bigger the paragraph looks. Smartphones are getting bigger screens, but that doesn't mean everyone has the latest technology – there will always be someone who has a smaller screen.
EDIT: There is always an exception to this one – if you're writing an amazing post, I want to read it! I'm going to go devour every word of it. I do mean if your entire post is well… one big paragraph when it should be six, then well… no thanks.
Everything is disproportioned
Last week I came across a blog while comment hopping, and I think I got nightmares in less than a second. Everything was unaligned with each other – pictures were falling over into the sidebars…
I couldn't even find their comments section.
I'm sorry if the owner is reading this. Just know it's nothing personal, but my brain blew into smithereens. 🙁
All of your posts are promotional
I'm talking about book blitzes, book blasts – that type of thing. And I completely understand because I did the exact same thing when I first started blogging. (Well, not as much as some, but I still did a lot. I deleted most of them after the move to WordPress though…) Book blitzes, blasts – those are basically copy and paste.
Having promotional posts is okay, but there is such a thing as too much (as in every single day, maybe more than once a day). I want original content – I want to learn more about the blogger behind the post, I want to hear your thoughts, I want to hear your voice. Damn, I've gotten pickier over the years.
This is something I learned later on in my blogging career, and I almost never participate in blitzes or blasts now unless I have something to spice it up with (like why I'm excited about this book).
Okay, let's be honest here: it's super hard to come up with a thoughtful comment when the post is promotional. "This book looks interesting!" or "I really like the cover of this book, and I hope it will live up to expectation!" isn't something I like saying a lot, but that's all I have to say unless I've read it, right?
It doesn't start a conversation either. "Me too!" sounds like the typical response.
I'm sorry that sounded a little salty. 🙁
Super tiny font sizes
I've come across blogs with large text sizes – which is okay, my eyes are okay, I can handle big text – and I've come across blogs with tiny text sizes.
I wear glasses, and I have trouble seeing already. Sorry for sounding like a whiner, but I highly doubt anyone who doesn't wear contacts can clearly see an 8 pt font without squinting.
Try it for yourself. Can you see this super tiny font?
Honestly though, can you? You probably can. But do you want to see it for this entire blog post? (Just imagine.)
No? I don't either. I use a 15 pt font. I'm not saying you should go change your font sizes to 15 pt but do pay attention to the size. Ask a few friends to look it over and give you feedback. Heck, I volunteer as tribute.
Crowded sidebar
When I first started blogging, I put a lot of things in my sidebar – blogroll, blog button, ways to follow, archives, rating system, a review queue, favorite book series, etc. etc. I wanted to make things easier for everyone to find right there on the homepage, without having to go from page to page.
It's too much.
There's nothing wrong with 3-columns. Some people do it beautifully and have a great layout, which is perfectly fine, and I can't complain because let me admit it right here: I did it too.
If you go around the internet, you'll notice a lot of blogs use a 2-column layout rather than a 3-column. All of them probably have different reasons compared to mine, but here's why I switched to a 2-column:
Blog posts don't appear as long
I think most people's eyes aren't going to go back and forth, back and forth
There's more space! (This seems to be a pattern in my online and offline projects?)
It looks cleaner
I read an article about 2-columns and wanted to try it out for myself
…
No, really. I'm a very curious person, and if I like something I see, I'm probably going to try it out one day. It didn't help me with relationship problems though, what are you even doing Google. Such a disappointment.
Note: I use caution before proceeding. Will not willingly volunteer for dangerous things. Also note the 2-column is referring to something similar to Bookwyrming Thoughts' current layout, not a grid or magazine layout.
I'm going to give the same advice as I did with promotional posts: there is such a thing as too much.
And of course, whatever doesn't work for me, might work for you! If your audience likes 3-columns, keep it. If you think it's too much and want to try 2-columns, go for it. If you think promotional posts are good, go for it.
It's your blog in the end. What you change, what you post – it's all up to you.
Let's talk, bookwyrms: what makes you stay on a blog? What drives you away from them?
Sophia has a GIF for nearly everything and is frequently in a Hogwarts House crisis. Unlike her personality in blog posts, she's a socially awkward recent college grad who majored in Communications. More of her bookish reviews can be found at The Arts STL.