Hello all! It's almost Friday, and that's probably worth celebrating in and of itself if you're off for the weekend (except me, which I'm always working, working, working and being a busy bee).
I've been told to not overwork myself.
This week's blogger, if anyone has been following BWT for the past few years, is someone that might be a little familiar… because she was part of the trial run last year when Lupe, Ella and I looked for a new minion co-blogger to help us take over the world run the blog.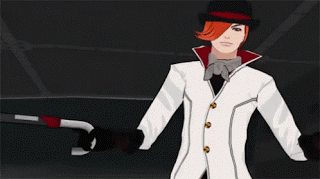 Side Note: RWBY is a good show.
Welcome back, Kaeley! Though this time you're not getting kidnapped like we did last time. Kaeley blogs over at Spoilers May Apply and she's joining for a chat about books, blogging, and other shenanigans my mind comes up with.
She didn't get the ultimate evil question, if anyone's wondering.
Outside of blogging and reading, what other interests do you have?
I adore cartoons and dedicate a good deal of time to watching them and LOVE discussing them with anyone and everyone who will humor me. Favorites include Avatar: The Last Airbender, Steven Universe and Gravity Falls.
What is your most unusual accomplishment?
When I was in high school I taught myself how to roll my R's walking around a Costco and saying "super." I know it's not that unusual.
What is your favorite food?
Asian food. I love all Asian food, but East Asian food is probably the foremost in my mind. I love a lot of different aspects about different countries. I love the emphasis on pickles in Korea, sashimi from Japan and hand-pulled Muslim-Chinese noodles. I could never eat a hamburger again and die happy.
If you could rewrite the ending of any book of your choice (yes, just one!), which would it be?
Clockwork Princess. Jem deserved better than [two] pages of the epilogue; I will die on this hill.
Sophia: I know right! Jem deserved so much more than what he did. 😭😭😭
What are the top three books you wished someone revealed the ending of so you wouldn't have to face it yourself?
I'm kind of neutral on the whole spoilers thing. I'm a little disappointed when I find out spoilers, but I'm still able to enjoy the story. But I've never hated an ending so much I wanted to know about it going in.
Name five characters you would love to have as family members.
Oh jeez, I have no idea. Ramona from Ramona Blue, Cath from Fangirl, Lara Jean Song Covey from To All The Boys I've Loved Before, Nix from The Girl From Everywhere, Jem from The Infernal Devices and Nero from Beginner's Guide: Love and Other Chemical Reactions. Honestly, though, I could never just pick five.
Any advice for future book bloggers?
Blog for yourself. When you first start out, it can be hard to keep in mind some bloggers have been at it for years. At first no one comments on your blog, and it can feel like you're shouting into the void. Even one year out I have maybe 2-3 consistent readers who I know enjoy and visit my blog specifically for my reviews. Blog to improve your writing; blog to challenge yourself and your paradigms; blog to learn more about yourself and what you like to read. Just do it for yourself, because at the end of the day your readers come to read your blog for your perspective, and that won't translate if you don't do it for yourself.
Find Kaeley on the Interwebs!