Friends, I'm slowly but surely unhoarding all those reviews I keep hiding for the past year or so! But let's just pretend I wasn't sitting on this for over a year. 🥴
This post contains affiliate links, which means if you make a purchase using that link, a small commission is made from the sale. There are no additional costs to you. Thank you for your support!
Content and Trigger Warning: This book contains content that may be triggering to some, which we will try our best provide below the synopsis.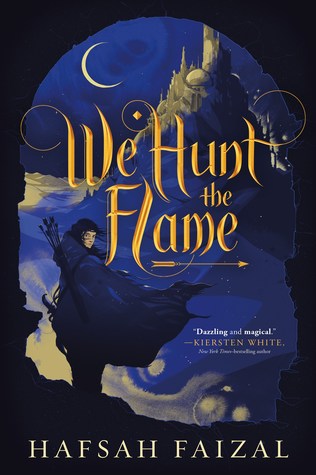 We Hunt the Flame
by
Hafsah Faizal
Sands of Arawiya #1Published by
Farrar Straus and Giroux
on May 14, 2019
Genres:
Fantasy
,
Young Adult
Representation:
Arabian
Format:
Physical
Source:
Gifted/Giveaway
People lived because she killed.
People died because he lived.

Zafira is the Hunter, disguising herself as a man when she braves the cursed forest of the Arz to feed her people. Nasir is the Prince of Death, assassinating those foolish enough to defy his autocratic father, the king. If Zafira was exposed as a girl, all of her achievements would be rejected; if Nasir displayed his compassion, his father would punish him in the most brutal of ways.

Both are legends in the kingdom of Arawiya—but neither wants to be.

War is brewing, and the Arz sweeps closer with each passing day, engulfing the land in shadow. When Zafira embarks on a quest to uncover a lost artifact that can restore magic to her suffering world and stop the Arz, Nasir is sent by the king on a similar mission: retrieve the artifact and kill the Hunter. But an ancient evil stirs as their journey unfolds—and the prize they seek may pose a threat greater than either can imagine.

Set in a richly detailed world inspired by ancient Arabia, We Hunt the Flame is a gripping debut of discovery, conquering fear, and taking identity into your own hands.
Trigger Warnings: murder, abuse, chronically ill parent
Not the best book I've read but certainly not the worst. We Hunt the Flame is slow-paced and it took a while to get things going; a lot of the action happened after about the halfway point. There were multiple times where I had to either push myself through until that point, hoping things would pick up.
I also didn't care much for the characters? I like Zafira and Nasir, especially in the first few chapters because I enjoy stabby characters. But for the rest of the book and overall, I found Altair and Kifah to be the most interesting and why I might pick up the sequel. Yasmine is also somewhat interesting, but she doesn't get much page time here. 😔
Nutshell: I had high hopes for We Hunt the Flame, but I ended up disappointed. This is still a solid start, though, so maybe the sequel will be more promising.
Content and Trigger Warning: This book contains content that may be triggering to some, which we will try our best provide below the synopsis.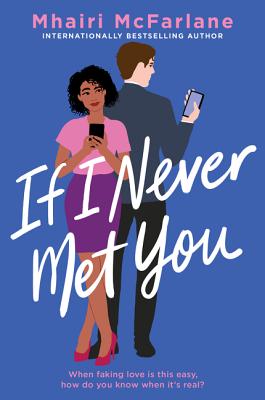 If I Never Met You
by
Mhairi McFarlane
Published by
William Morrow Paperbacks
on March 24, 2020
Genres:
Adult
,
Contemporary
,
Romance
Format:
eBook
Source:
Library
If faking love is this easy... how do you know when it's real?

When her partner of over a decade suddenly ends things, Laurie is left reeling—not only because they work at the same law firm and she has to see him every day. Her once perfect life is in shambles and the thought of dating again in the age of Tinder is nothing short of horrifying. When news of her ex's pregnant girlfriend hits the office grapevine, taking the humiliation lying down is not an option. Then a chance encounter in a broken-down elevator with the office playboy opens up a new possibility.

Jamie Carter doesn't believe in love, but he needs a respectable, steady girlfriend to impress their bosses. Laurie wants a hot new man to give the rumor mill something else to talk about. It's the perfect proposition: a fauxmance played out on social media, with strategically staged photographs and a specific end date in mind. With the plan hatched, Laurie and Jamie begin to flaunt their new couple status, to the astonishment—and jealousy—of their friends and colleagues. But there's a fine line between pretending to be in love and actually falling for your charming, handsome fake boyfriend...
Trigger Warnings: cheating, sexism
I feel like I got misled from the synopsis, which made If I Never Met You sound fluffy and cute with fake dating? Am I alone in this? The book falls more along the lines of Laurie getting back at her ex after he suddenly breaks it off after nearly two decades, and most of the book is about their relationship rather than the fake dating with Jamie. Other than that, it focuses on the sexism Laurie faces on a daily basis, and I was definitely not in the mindset for that.
Nutshell: If I Never Met You had hilarious moments, but overall, it was disappointing.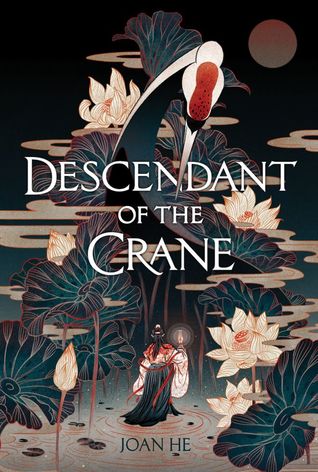 Descendant of the Crane
by
Joan He
Published by
Albert Whitman and Company
on April 9, 2019
Genres:
Fantasy
,
Young Adult
Representation:
Chinese
Format:
Physical
Source:
Gifted/Giveaway
Tyrants cut out hearts. Rulers sacrifice their own.

Princess Hesina of Yan has always been eager to shirk the responsibilities of the crown, but when her beloved father is murdered, she's thrust into power, suddenly the queen of an unstable kingdom. Determined to find her father's killer, Hesina does something desperate: she engages the aid of a soothsayer—a treasonous act, punishable by death... because in Yan, magic was outlawed centuries ago.

Using the information illicitly provided by the sooth, and uncertain if she can trust even her family, Hesina turns to Akira—a brilliant investigator who's also a convicted criminal with secrets of his own. With the future of her kingdom at stake, can Hesina find justice for her father? Or will the cost be too high?

In this shimmering Chinese-inspired fantasy, debut author Joan He introduces a determined and vulnerable young heroine struggling to do right in a world brimming with deception.
Trigger Warnings: cruel parent
Where's the sequel because Descendant of the Crane sure as fuck deserves one. As a stand-alone, Joan He's debut feels like a partially formed world with incomplete characters and loose plot holes that aren't solved by the end. Honestly, if I didn't know this is a planned series but not official, I would be extremely disappointed.
But if I'm looking at it as a first in a series, Descendant of the Crane is a strong start; I loved all the twists being thrown and the world Joan He builds, added on top of family secrets and court politics. My only issue is the romance, which didn't feel necessary to the story.
P.S. Lilian is the Best.
NOTE: Descendant of the Crane is no longer being published by Albert Whitman and Company as of December 10, 2020. If you're interested in purchasing the book, please make sure it's being published by Titan Books.

SIDE NOTE: Originally received an ARC for review, but later gifted the final copy from friends.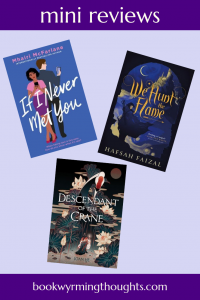 Sophia started blogging in February 2012 for the hell of it and is surprisingly still around. She has a GIF for nearly everything, probably listens to too much K-Pop and is generally in an existential crisis of sorts (she's trying her best). In 2020, she graduated with a Bachelor's in Communications and minor in Women's Studies. More of her bookish reviews and K-Pop Roundups can be found at The Arts STL.
If you enjoy her posts, consider supporting her through Ko-Fi.