Ahem.
My dating experience is 3 months: a sort of date and no kissing experience. This can sometimes make it hard for me to write relationships in stories when I want to make sure they're realistic. Not too lovey-dovey but not too erm…cold? We'll go with cold, haha.
Related: Three Love Clichés I'm Done With (And They Need to Die)
Disclaimer: I'll be referring to writing fan fiction throughout this post, as I just happen to use it to explore so I can keep my brain cells not crispy from world building. I do write other genres outside fanfic.
Arguments
Couples aren't going to agree on every single thing. If they do, they're an exception since there'll come a point where we disagree with our partner. Arguments come in so many forms and I actually have a ton of fun exploring them in fanfiction. I have no doubts it'll be fun exploring them in original works too.
Arguments range from:
petty things where you're both half joking and it's not serious
you've actually annoyed me now
full-scale argument leaving us wondering if they're gonna break up.
Of course, there's a ton in between which add something new to the table. Arguments can be caused/provoked by many different things, which give us as writers so many ways to stir the pot. 😉
I do enjoy causing full-blown arguments over something petty though, it brings me delight watching people wonder if I'm gonna break them up. Or if they're gonna give each other the cold shoulder.
Cute Moments
We live for cute moments, whether it's hugs, cuddles, kissing or just how two characters interact with one another in a scene. I have a habit of throwing a sassy remark into the dialogue nearly… all the time? (Oopsies)
sassiness + cuteness = melted hearts.
I'll also say that I'm thankful for all the contemporary I read, which helps me write cute moments I've experienced none to date. *shrugs* Books are wonderful things, hehe.
Related: #Starstruck by Sariah Wilson review
Facing Problems Together
Now, this is something I'd love to see MORE of in all books. I don't care if you're about to be killed by some evil witch or the King has got a sword against your throat. Watching couples face their problems together, working as a team, realising, "Oh, hey, we actually work well together," always makes me smile. It's a testament to their partnership I guess in my eyes.
Sure there'll be fallout's here and there and differences of opinion, but overall, good couples should equal awesome teamwork.
Vulnerability & Opening Up
Relationships of any kind should hopefully give you a space to open up and confide in someone. It should also let you be vulnerable without worrying that it's gonna come and haunt you later. It's always interesting writing these sorts of scenes, particularly for me as I write in first-person POV and am usually trying to get inside the character's head. Their past, memories who they are… yes, it's led to me crying whilst writing.
My parents and grandma are used to me typing whilst crying at this point and reading whilst sobbing. I love reading books where you have a moment of vulnerability with a character (or two!). It lets you peek inside them: at their heart, who they are and what they're scared of.
The Calm, The Storm & The Momentary Bliss
Life isn't just a straight line in whichever direction you want to go in. There are turns, stops, falls, highs and low just like in a relationship. There'll be lows, highs twists and many hurdles sometimes in the way. A lot of books and the media we consume gives us this illusion of a smooth sailing relationship with no arguments – just all love, cute moments and a happily ever after. Life isn't like that.
Happily Ever Afters are important to have, though but should be balanced with the more realistic approach to a relationship, I think. Just like day balances night and vice versa.
Are you a writer? How do you try to make relationships more realistic? If you don't write, what makes a relationship more realistic to you in a book?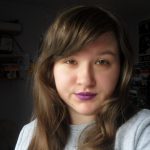 Clo is a 19-year-old book dragon from the UK, England primarily found on her own blog, Cuppa Clo. She studied Graphic and Digital Design. Sarcasm is her default, and she's addicted to tea. Oh, and she'd rather you didn't save her from a dragon.
She's also a Co-Founder of Bookend Events, a quarterly event with the aim to bring the bookish community, closer together.