This post contains affiliate links, which means if you make a purchase using that link, a small commission is made from the sale. There are no additional costs to you. Thank you for your support!
Content and Trigger Warning: This book contains content that may be triggering to some, which we will try our best provide below the synopsis.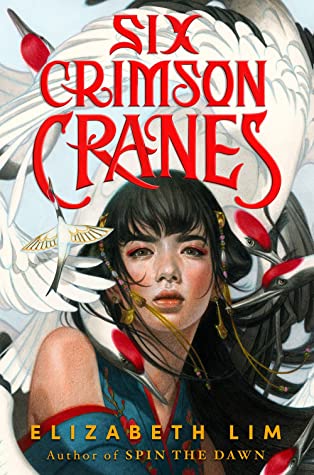 Six Crimson Cranes
by
Elizabeth Lim
Six Crimson Cranes #1Published by
Knopf Books for Young Readers
on July 6, 2021
Genres:
Fantasy
,
Retellings
,
Young Adult
Representation:
Asian protagonist
Format:
ARC
,
eBook
Source:
Publisher
A princess in exile, a shapeshifting dragon, six enchanted cranes, and an unspeakable curse... Drawing from 'The Wild Swans' and East Asian folklore, this breathtakingly original fantasy from the author of Spin the Dawn is perfect for fans of Leigh Bardugo or Tomi Adeyemi.

Shiori'anma, the only princess of Kiata, has a secret. Forbidden magic runs through her veins. Normally she conceals it well, but on the morning of her betrothal ceremony, Shiori loses control. At first, her mistake seems like a stroke of luck, forestalling the wedding she never wanted. But it also catches the attention of Raikama, her stepmother.

A sorceress in her own right, Raikama banishes the young princess, turning her brothers into cranes. She warns Shiori that she must speak of it to no one: for with every word that escapes her lips, one of her brothers will die.

Penniless, voiceless, and alone, Shiori searches for her brothers, and uncovers a dark conspiracy to seize the throne. Only Shiori can set the kingdom to rights, but to do so she must place her trust in a paper bird, a mercurial dragon, and the very boy she fought so hard not to marry. And she must embrace the magic she's been taught all her life to forswear--no matter what the cost.
A copy of the book was provided for review purposes - thank you! Receiving a copy does not guarantee a positive review and therefore does not affect the opinion or content of the review.
Trigger Warnings: death of a parent, murder, fire, animal death, bullying
As someone who highly enjoyed The Blood of Stars duology, I looked forward to Six Crimson Cranes the moment it popped on my radar. I loved the references to the duology scattered throughout and while I'm not familiar with The Wild Swans or a few other tales that inspired Elizabeth Lim's latest novel, I did love the few that I recognized while reading. (Note: you don't need to read The Blood of Stars before Six Crimson Cranes, but for those who have and enjoyed it, you may like seeing the references.) I particularly loved the references to Madame White Snake (which I'm most familiar with) and Chang E.
And it's also no surprise as someone who is familiar with Lim's other works that Six Crimson Cranes is just as beautifully written, weaving together a magical world and intricate characters with complex relationships. As Shiori seeks to break the curse placed by her stepmother, Raikama, and uncovers a plot throughout the novel, Lim explores the various relationships the princess of Kiata has with the other characters – her brothers, her mother and stepmother, her paper bird, etc. I especially loved the various angles of Shirori's and Raikama's relationship, and I could spend a lot of time unpacking and discussing the different aspects, but that, unfortunately, falls under major spoilers for the story.
I think the only thing I'll mention is this was a huge factor in rating the book higher than originally intended, as Six Crimson Cranes started out disappointing me for a good portion of the first half. The novel is much slower-paced, with a focus on world-building and developing the characters. Additionally, since Shiori is voiceless due to her curse (for every sound she makes, one of her brothers will die), there's more focus on descriptions, especially when she's communicating with others around her. For some, the slow pace might be the biggest turn away and I've definitely considering setting this book aside multiple times, but I wanted to see how things would play out for Shiori. (Also, I would've been really disappointed and bummed about it.)
I also really enjoyed the character growth Shiori undergoes throughout the course of the entire novel – we neet her as the youngest (spoiled even?) princess, full of mischief and beloved by her family. She's loud, she's trouble, she's curious – and that's what ends up getting her into a mess. But this is also what makes her such a charming and endearing character that I loved as a protagonist of this story. The other characters were just as endearing – her brothers and their vastly different personalities (but they still come together to protect Shiori), her former betrothed Takkan and his love for stories, her paper bird Kiki and her constant sass, etc. Honestly, I don't think I could love a paper bird so much, but here we are.
While Six Crimson Cranes had a slow pace, I'm glad I decided to push through to the end to see how everything would play out. Lim's writing was lyrical, the different tales that inspired this novel woven together seamlessly, and the world filled with vivid descriptions that show a lot of thought into building the world and plot. If you've enjoyed Lim's other works and don't mind a slower-paced novel, Six Crimson Cranes is something to look into picking up.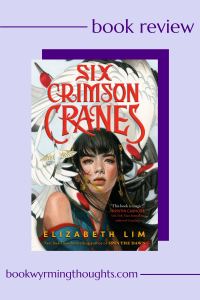 About Elizabeth Lim
Elizabeth Lim grew up on a hearty staple of fairy tales, myths, and songs. Her passion for storytelling began around age 10, when she started writing fanfics for Sailor Moon, Sweet Valley, and Star Wars, and posted them online to discover, "Wow, people actually read my stuff. And that's kinda cool!" But after one of her teachers told her she had "too much voice" in her essays, Elizabeth took a break from creative writing to focus on not flunking English.
Over the years, Elizabeth became a film and video game composer, and even went so far as to get a doctorate in music composition. But she always missed writing, and turned to penning stories when she needed a breather from grad school. One day, she decided to write and finish a novel — for kicks, at first, then things became serious — and she hasn't looked back since.
Elizabeth loves classic film scores, books with a good romance, food (she currently has a soft spot for arepas and Ethiopian food), the color turquoise, overcast skies, English muffins, cycling, and baking. She lives in New York City with her husband.
Website | Facebook | Goodreads | Instagram | Twitter
Sophia started blogging in February 2012 for the hell of it and is surprisingly still around. She has a GIF for nearly everything, probably listens to too much K-Pop and is generally in an existential crisis of sorts (she's trying her best). In 2020, she graduated with a Bachelor's in Communications and minor in Women's Studies. More of her bookish reviews and K-Pop Roundups can be found at The Arts STL.
If you enjoy her posts, consider supporting her through Ko-Fi.