Hey, book dragons. *coughs* Okay, so no, I'm not Sophia nor Lupe. I'm Clo, I have a blog some of you may have heard of (Cuppa Clo) and Sophia kidnapped me. Kind of, haha – basically I'm a contributor to this lovely blog here. So you may end up seeing me pop up, every now and then.
Anyway, most people know I LOVE a good discussion and today I decided to ramble… well DISCUSS why you know, it's totally fine to disappear off the blogosphere for a while. As we bloggers know, whatever our niche happens to be, blogging is like having a job. Only it's unpaid, and often we may be screaming, as we can't write anything. Or we have this idea, possibly several drafts yet WHERE IS OUR MOTIVATION oh that…that's left you in the dust now. *cries*
On my own blog I've not posted like, a typical post outside of my Weekly Wrap Ups since maybe some time in June? And you know, I've felt hella guilty about that because like it's not like I have writers block. It's more I've just lost this motivation to edit, format and what with wanting to redesign my blog…I had an excuse. Still do have an excuse as I try and tidy my blog up *chuckles*
Writers Block
This is a thing that actually happens. It's not you just having a bad week, although it could also be that. I'm a writer, not just of my blog, I write stories, poems and lyrics. I get writers block, I write through it typically though, didn't used to because everywhere I looked they all said to just step back. Take a break. I disagree, I think particularly when I get writers block with stories, it's because I have this alternative route. This route's taken hold of me and unless I write it, get it out of my system, we'll be stuck going round and round. Me not progressing with the story, still stuck and not able to do anything, and this alternative route still on my mind.
Finding this content for your blog – is hard okay? Don't go thinking it's easy even if you seem to get ideas like *snaps fingers* Cause I get a lot of ideas – not all of them turn into posts, some are thrown away and those that are. It took blood, sweat… and tears of others to get them there. For book bloggers other than book reviews, discussion posts are the next hardest content type to write I think – both the topic and what do you talk about? But for me, they're draining, as I try and pour my heart, soul and what remains of my emotions out onto a document for you.
Writers block is normal – all you need to do is breathe, go read, blog hop and come back. Don't leave it for days unless you know that's what works for you.
Motivation
Oof so this is the main issue I've been having: motivation. I just, lost it gradually and now I'm just posting Weekly Wrap Ups, to update anyone interested in what's been happening in my week. Motivation is probably the worst thing for me, cause there's no magical way to get it back when it leaves.
It just takes time for it to come back, doesn't stop me feeling guilty for not posting anything which you know is ridiculous right? Blogging is a hobby, a way for us to escape and just connect with people like us. Yet…I think a lot of us feel guilty for not posting. Not because we HAVE to because it's nice to post regularly, it's how you grow your blog, gain an audience. It's also how to make new friends, discover new bloggers in your niche. So when we don't post, it can make us feel crappy.
Are We Magicians?
I mean…maybe? Some of us may disappear from ALL their blog socials and their blog, whilst they figure out stuff. Others like myself, may just not produce 'original' content and just settle with a meme, but are still active everywhere else.
My point here is, we have lives – each and every one us has a life outside of our blog. We are more than just bookdragons and writers – a lot of us have jobs, bills to pay, families and kids. It's not like we don't have a ton of stuff to do. It's okay to just vanish for a while with no explanation if something comes up in your life. It's alright to not post for a month and then reappear or even several months.
At the end of the day, our life, our blog… we know what we got to do in our lives. Sometimes blogging just has to step aside for the real world, no matter how much that sucks.
Sometimes, we need to take a hiatus/break from the blogging life and recharge, remember that it's not a job. That it's for fun, and the only schedule we have to hold ourselves to, the only person we have to answer to (provided you're not a co-blogger) is yourself.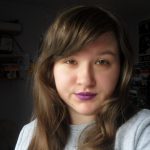 Clo is a 19-year-old book dragon from the UK, England primarily found on her own blog, Cuppa Clo. She studied Graphic and Digital Design. Sarcasm is her default, and she's addicted to tea. Oh, and she'd rather you didn't save her from a dragon.
She's also a Co-Founder of Bookend Events, a quarterly event with the aim to bring the bookish community, closer together.